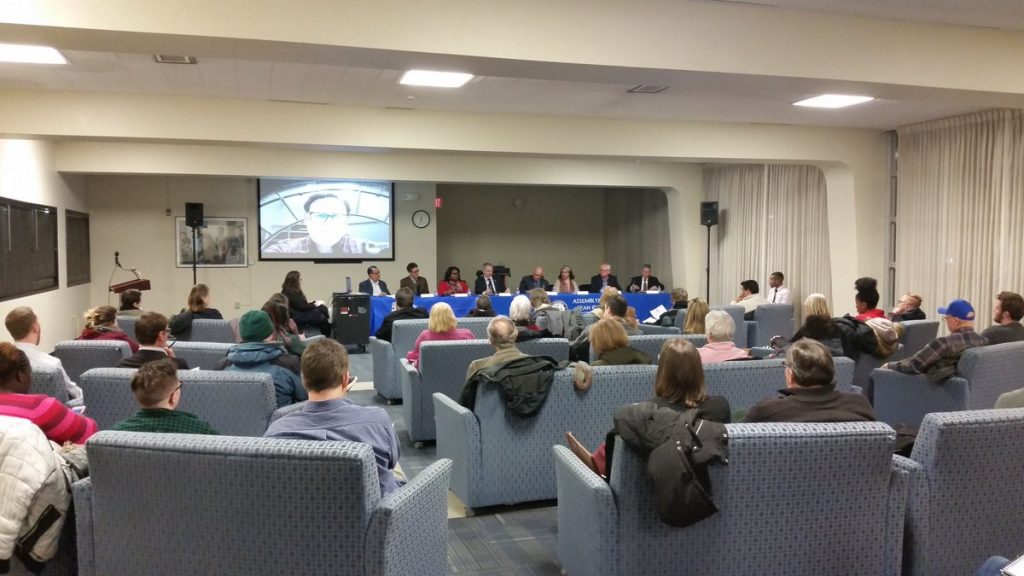 We asked board member, Grace Andriette, to summarize a recent presentation about an important subject that is relevant to our neighborhood.
Buffalo finds itself suddenly described as a city undergoing an economic renaissance.   Yet for over one hundred twenty-eight thousand (128,000) Buffalonians, this so-called "economic renaissance" only makes life more difficult.  Buffalo's "renaissance" makes city living more desirable, but as developers find opportunities to create more high-end housing, rents throughout the City rise.  Despite the increase of high income renters in our communities, the City's poverty rate continues to rise.  Currently, 31.4% of Buffalo residents live in poverty – more than two times the national average.  Families who have lived in the same Buffalo neighborhoods for generations are rapidly becoming "priced out."
The Future of Affordable Housing was the topic of a panel discussion hosted by Assembly Member Sean Ryan at D'Youville College on February 8th.  Panelists included:  Sam Magavern, Executive Director, Partnership for the Public Good; Dennice Barr, President, Fruit Belt Advisory Panel;  Councilman David Rivera, City of Buffalo Common Council, Niagara District, DeAnna Eason, Executive Director, Housing Opportunities Made Equal, and Todd Rawlings (via video conference), Housing Program Manager, Community & Economic Development, City of Burlington, Vermont.  Mr. Rawlings spoke about Burlington's inclusionary zoning ordinance which was adopted in 1990.  Today, Burlington, Vermont has one of the nation's most diverse and sophisticated affordable housing delivery and financing systems, overseen by a broad network of public and non-profit agencies.  Over time, this system has succeeded in helping to create a market where, according to the City's 2013 Consolidated Plan for Housing and Community Development, fully one-quarter of rental units have been made affordable through public subsidy, regulation, or deed restriction.  Inclusionary zoning has played a significant role in ensuring that housing opportunities for families of all income levels exist within the City of Burlington.
The importance of preserving the rich diversity of Buffalo's neighborhoods was the focus of Councilmember David Rivera's comments.  Increasing rents threaten that diversity – especially in neighborhoods on our City's Westside where housing values and rents have suddenly spiked.  Much of the new luxury or market-rate housing built in the Westside and in other parts of Buffalo is underwritten with generous subsidies from taxpayers; yet many of those same taxpayers are negatively impacted by that development. The recently introduced City Inclusionary Zoning Ordinance is a proven tool in the toolbox designed to create more affordable housing opportunities, and  to protect the rich economic, racial, ethnic, and cultural diversity of our communities.